Chris McGreal tells a remarkable story
If it hadn't been for his father, Craig Holmes might never have returned the graduation ring given to him 30 years earlier by a teenage girl he helped rescue from the South China Sea. Holmes was training to be a navigator on board a British ship hauling a cargo of millet to Taiwan in the autumn of 1978. Off the Vietnamese coast, the hulking steel vessel crossed paths with a small, crowded and leaking wooden fishing boat holding Luisa Van Nu and 345 other people fleeing the communist takeover of their country.
The refugees were into their fourth day at sea and hope for a new life had given way to despair as it seemed inevitable the boat would sink. Mothers pulled their children close. Fathers spilled regrets at taking their families to their deaths. Then the MV Wellpark, run by a Scottish shipping company, appeared out of the storm. The difficult and dramatic rescue earned its captain, Hector Connell, an MBE. But that recognition came only after the destitute refugees found themselves caught up in an international political wrangle over who would take them in. In the end, the then Labour government agreed to bring them to London despite the alarmist cries of Britain "being full" and warnings that it would open the door to floods of refugees.
Holmes gave up his cabin for Van Nu's family. As she left the ship for London and a country she knew nothing about, the 19-year-old seaman handed her a keepsake. "I had a necklace I'd bought in Peru," Holmes recalled. "It was silver. A nautical wheel with a crucifix in the middle. I gave that to her and said: 'Remember us from the Wellpark.' She took off one of those pinky rings, her high school graduation ring, and gave it to me."
Holmes said he viewed the rescue as little more than a bit of adventure to break up a long sea voyage and it quickly slipped into history. He went on to captain his own ships before settling as a maritime pilot in New Zealand. "My dad had the ring for a while because, being older perhaps, he realised more what we'd done than I did, really. He used to wear it around his neck on a chain. If he hadn't kept it, it might just have got lost, showing how vacuous I was at the time. When he died I got it back again and it sort of meant a bit more then."
Holmes stuck the ring in his wife's jewellery box where it sat until word reached him that the Vietnamese rescued by the Wellpark were planning a 30th-anniversary reunion in California, where some had settled.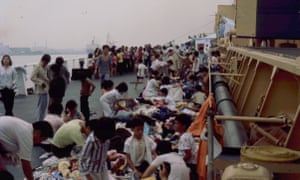 "When I went to the reunion, I thought I'll take it and give it back to Luisa. She was quite emotional about getting it back after all those years," he said. "To me the rescue was just a night of adventure. What we'd actually done didn't come home to me until I went to the reunion. There were a couple of boys, about four or five, and I suddenly thought: 'Fuck me, this is another generation.' These kids wouldn't be here if their mum hadn't been dragged on board the Wellpark. I realised then that what was a night of adventure for me was life or death to them."
In October 1978, 346 people crammed into the three decks of the 60ft fishing boat to join one of the great migrations by sea of modern times. Around 800,000 boat people, as they became widely known, are believed to have fled Vietnam by sea. Many others drowned or were captured, raped and killed by pirates, particularly from Thailand.
As the boat entered the Mekong Delta it damaged its rudder and lost its steering. The refugees headed out to sea with no idea where they were going. Among them was nine-year old Diep Quan, whose family had two strikes against it when South Vietnam fell to the communists because her father was a businessman and her parents were of Chinese ethnicity. On the day they left, her mother announced a family holiday. "My uncle came round with a truck because he was a goods driver. I was a city girl and all I remember is trees, jungle, mud. What's this about? This is a weird place for a holiday," she said. Then she saw the fishing boat moored on the Mekong River and understood she might never see Vietnam again.
Sitting in a London coffee shop, swinging between tears and laughter as she recalled a journey and a life that was very nearly cut short, Quan described the first day at sea as "a paradise" of infinite ocean and flying fish. Then the boat hit the wake of Typhoon Lola and started to fill with water. A chain of young men bailed out with buckets, but they could only delay the inevitable.
The refugees spotted ships and fired flares, but either they were not seen or the crews ignored them. The captain told his passengers the boat could not struggle on much longer. "I heard someone say: 'This is it now, the water's coming in and the boat will go down,'" said Quan. "My dad had been up on deck. He decided, if this is it then he's going to come and sit with his family. All the menfolk came and sat with their families."
Quan wiped away a tear as she recounted, years later, asking her mother if her father ever regretted the decision to get on the boat. "She said, 'Of course he did.' When everyone had said, 'Right that's it, we're going to sink,' he was talking to my uncle and they were saying: 'We really shouldn't have done this. We've taken everyone to their deaths,'" she said.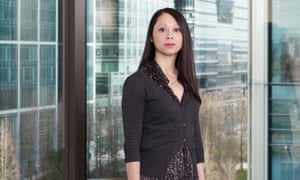 Two brothers, Hung and Huy Nguyen, were on board with their other siblings and parents, who owned a cinema chain in Saigon before it was seized by the new communist government. Hung was 18 and chose to leave even though he had won a prized place at medical school. "There was no question about whether I should go or not. As a medical student you are cream of the crop, but you're also government property," he said. "Growing up at that time, it really bothered me because of the freedom thing. They can stop you on the street and cut your hair if your hair is too long. When you talk, you have to watch your mouth."
As the passengers grew more fearful, Hung's mother called for him and 15-year-old Huy to sit with her. "She called all the kids over so she could see us. We didn't really understand, but now we know," said Huy.
One of their uncles, who Huy thinks may have been autistic, leapt over the side into the sea, saying he was going to swim back to Vietnam. Acceptance of what seemed like the inevitable was broken by someone shouting that they had spotted a ship. The captain fired a flare. It was seen by an officer on the Wellpark's bridge.
"We thought it was a battleship," said Huy. "In the night, it was lit up with all these cranes which looked like cannons." Captain Connell sent a lifeboat to investigate. Waiting anxiously on the fishing boat deck was Stephen Ngo, just 13 years old and the only child travelling on his own. Ngo had gone down to the boat to see off his older brothers, but his father sent him off instead at the last minute. "He gave me a tube of toothpaste. Inside that toothpaste was a $100 bill. He said: 'Take this with you and I'll see you later.'" Ngo would not see his father for years.
The crew of the lifeboat struggled for hours, rowing through the heavy swell to make two trips picking up a few dozen refugees. Captain Connell decided to bring the ship alongside the fishing boat and take the refugees off directly. It was a remarkable act of seamanship.
"I was leaning over the side with a heaving line," said Holmes. "Someone tied it to a bag. I shouted down: 'No. No baggage. We'll get baggage later.' A guy on the boat opened the bag and there was a kid inside it." That was the end of the no-baggage policy. "I lifted this kid up and that was the start of what turned out to be a good way to get the kids on board. Any kids that would fit into this red Adidas bag. I lost count of how many I brought up in that."
Read the rest here. (Original posted in The Guardian)