A growing number of indigenous Mexicans are being detained by agents looking for Central American migrants, amid a crackdown driven partly by aid from US
Amy and Esther Juárez were edgy with excitement as they boarded the bus full of seasonal workers heading for a farm at the other end of Mexico from their home in the poverty-stricken southern state of Chiapas.
Although their brother Alberto,18, had made the same journey the previous year, it was the first time Amy, 24, and Esther, 15, had left the tiny indigenous community where they had grown up.
But about half-way there, immigration agents boarded the bus, and after checking all the passengers' papers, ordered the three siblings to get off.
The officials accused them of carrying false documents and lying about their nationality. Then they told the youngsters that they would be deported toGuatemala, a country none would have been able to place on a map.
The baffled youngsters – who speak the Mayan language Tzeltal but very little Spanish – were transferred to an immigration holding centre in Queretero city.
Alberto, 18, was taken into a separate room by four agents who told him that unless he signed documents admitting he was Guatemalan, would die there.
"One pushed me, another was kicking my leg, and a third who was very fat gave me an electric shock here, on the back of my right hand," Alberto told the Guardian through a translator.
"I really thought I was going to die, so I signed lots of sheets of paper – but I can't read or write so I didn't know what I was signing."
The three siblings were held for eight days before a lawyer from an activist group filed a legal complaint and eventually secured their release.
A growing number of indigenous Mexicans are being detained and threatened with expulsion by immigration agents looking for undocumented Central American migrants.
The trend comes amid a crackdown on migrants driven in part by political pressure and financial aid from the US. Deportations have already risen exponentially since summer 2014 when Barack Obama declared the surge in Central American child migrants a humanitarian crisis. Campaigners say that Mexico migration officials are running a secret quota system to increase the number of expulsions.
Activists say that Mexico's National Immigration Institute is increasingly operating like an unchecked police force – and say that that like the country's security forces, it appears to be systematically using torture against detainees.
"The order appears to be to detain Central Americans at any cost, even if that means violating the constitution, picking up people based on racist criteria and detaining and deporting Mexican indigenous youth along the way," said Gretchen Kuhener, director of the Institute for Women in Migration (IMUMI), which launched legal action to secure the siblings' release. The Mexican constitution states that citizens can move freely within the country, and do not need to carry ID.
Kuhener added: "This case demonstrates the power and impunity of the National Migration Institute. They can get away with it because it impacts highly vulnerable populations who may not speak Spanish, don't know their rights, and are unlikely to complain."
The Juárez family live amid the picturesque rolling hills in eastern Chiapas, where all seven children – aged six to 24 – help their parents eke out a living from a few plots of land.
Food is plentiful, but money is scarce, and to top up their incomes, thousands of people, many of them indigenous, travel by bus from Chiapas and other southern states to work on farms in northern Mexico.
In Chiapas, casual farmhands earn 60 to 80 pesos (£2.40 to £3.20) a day cutting coffee, whereas last season Alberto earned 200 pesos (£8) a day harvesting squash, watermelons and tomatoes in the northern state of Sonora.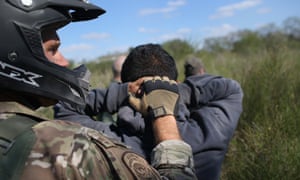 Gently swinging in a hammock, Alberto said his first time away from home was thrilling.
Continue reading here. (Original posted in The Guardian)